Radio GF1 was a short-lived wireless station set up by Dennis from which he broadcast to the world. Some of these precious recordings are still in existence and when processed will be made available in Dennis's shop. Until then, here is the explanation of the Coat of Arms of  The Wireless at Grunty Fen (pictured below).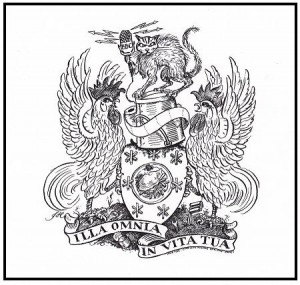 THE ARMS OF THE WIRELESS AT GRUNTY FEN
A Blazon prepared by
Brown Raincoat Pursuivant, the Elastic Garter King of Arms.
THE SHIELD
On a field stainy a plate of the first banded azure charged with
a haddock battered or, peas mushy vert, chips or,
brown sauce dollop proper,
in a chaplet of seven mullets of chip portions of the third.
THE SUPPORTERS
Two Padney Pikey cockerels rampant segreant and addorsed argent,
beaked and membered or, wattled and combed gules
on a bog littered proper.
THE HELM
A bucket galvanized reversed argent, garlanded Bronco of the first.
THE CREST
A Mudmog passant regardant affrontee proper
with mike clenched rayonee sable.
 Note: This Achievement of Arms, with accoutrements and blazonry, has been registered with the Universal College of Imperial Heralds, Blight Fen Branch. All enquiries to: Lord Luigi Mendoza-Barltrop, The College of Heralds, Bloke Road, Scrap End, Dank, near Downmarket, Cambs.
The Arms were generated to mark the founding of the short-lived Radio GF1. They are a truly wondrous colourful creation. It's a shame we've only got them in sable and argent.