My nervous sister Miss Edna and I are thrilled to tell you that Mr South has finally written the third book in his series about Grunty Fen! Called The Customs and Folklore of Grunty Fen it's currently being looked at for spelling and will be available this autumn.  I'm told that the book will indeed, using numerous pictures and words, describe the customs and folklore of Grunty Fen.
I'm particularly loo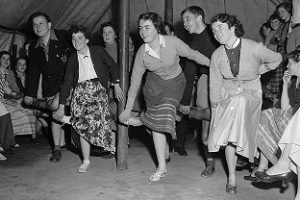 king forward to the description of some of our local dances – "Celery Nellie" being a favourite of my youth and illustrated here (photo from Mr South's latest book). I was not present on this particular occasion due to stocktaking.
We're just giving you fair warning about the book at the moment – we'll let you know once it's published. Keep your eyes peeled!
Kindest regards
Miss Edwards
Grunty Fen Post Office and General Stores