Grunty Fennery and Mr South are delighted to announce that :
The Customs and Folklore of Grunty Fen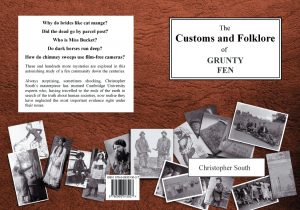 is now available. This is the third book in the series written by Christopher South and is even more enjoyable than the previous two.
The nice young person, Annabel, at Burrows bookshop in Ely was the first to stock Customs closely followed by Toppings.  In Cambridge that lovely little bookshop, David's, is your shop to visit for a copy.
Meanwhile, those lucky people that live in lovely Saffron Walden will be able to buy Customs locally; both the Tourist Information Centre and Harts Books now have stock.
And of course you can buy direct from Dennis' shop:
http://dennisofgruntyfen.co.uk/shop/index.php?main_page=product_info&cPath=1&products_id=186
Or if you don't mind paying the extra postage you can get it from Amazon:
https://www.amazon.co.uk/Customs-Folklore-Grunty-Fen/dp/0993013023/ref=sr_1_3?s=books&ie=UTF8&qid=1509621839&sr=1-3&keywords=grunty+fen
Thrilling isn't it?
Best wishes
Miss Edwards
Grunty Fen Post Office and General Stores